Skip Navigation
Website Accessibility
Mend Challenge Quilts Gallery
Jacquie Gering's original Mend quilt inspired her "Mend" fabric collection from Michael Miller Fabrics. The quilt design is featured as the foundation of the collection with supplementary prints derived from the design of the flag's starfield and it's red and white stripes.
Jacquie's quilt speaks to the impact that citizens have on the direction of our country, the responsibilities and obligations of citizenship, and the ability of our country to grow and change for the better. Jacquie added the word MEND to the original design of the veering stripe to encourage all of us to work together to foster the values of compromise, collaboration, and problem-solving. We are sewists and quilters and mending is our superpower. Jacquie wants the collection to provide an opportunity for our community to show the pride we have in our country and the power of its citizenry to work together.
Blue Bar Quilts offered a challenge to our quilting friends to create in the spirit of the Mend message. We were excited to receive 7 challenge entries!


The Mend Challenge Winners


First Prize - Kristine Moser
Viewer's Choice - Melissa Murray
Staff Pick - Arielle Martin
Arielle Martin - Madison, WI


When they said that all men are created equal when this country was founded, we knew that they only meant white men. We still have a ways to go, but every day we are working toward giving everyone the rights that they deserve. Hopefully someday all will truly mean all.
Created with Mend panel, quilting cotton, free motion quilting for text.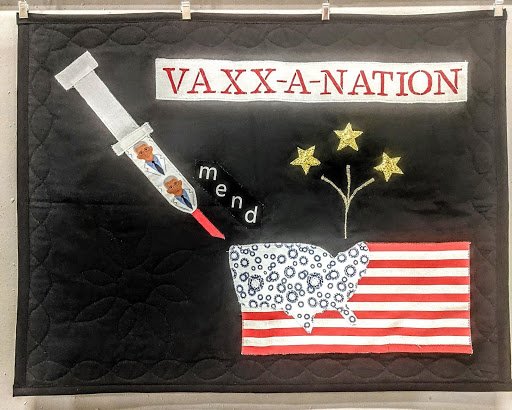 Nancy Thompson - Middleton, WI


Three Phases of Sewing Life Back Together
Anger. That is what I was feeling when I started this project. Anger at anti-vaxxers! Anger at non-believers in science! Anger at my selfish fellow Americans.
Resentment. That is what I was feeling when I worked on this project. Resentment against the millions of my fellow americans who are healthy today because they were vaccinated against other diseases that plagued history. Anger against politicians who put the lives and health of their constituents on the line for political gain.
Inspiration. That is what I was feeling as I was finishing this project. Inspired that this country has chosen some responsible leaders. Inspired that, as of this writing, half of Americans have had at least one dose of a COVID-19 vaccine. Inspired that many people continue to wear masks and socially distance. Inspired that this country seems to have gained a clearer vision.
Materials: Mend panel, quilting cotton, metallic thread & accent fabric, digitally printed novelty fabric, machine quilted.
Melissa Murray - Johnson Creek, WI


Equality & Justice For All
Looking at the mend Panel for inspiration, my first thought was that we are still a long way from equality and justice for all. When I thought about thow to represent equality and Justice, I immediately knew I wanted to include Ruth Bader Ginsburg and her now famous dissent collar.
Ruth Bader Ginsburg lived a life guided by her inherent sense of what our country should become and how it should treat its citizens. She spent a career fighting for equality and justice even in the face of much hardship and adversity. And, she did these things while remaining respectful and kind. She even maintained close friendships with colleagues whose personal opinions differed from hers greatly, as most popularly pertaining to her friendship with Antonin Scalia.
The dissent collar plays the central role in this quilt. Inclusive of the patriotic colors of our nation, the dissent collar recognizes we do live in a great nation, but the collar also symbolizes my personal dissent with the inequality and injustice found across our country. I know I stand with many fellow Americans working towards a better tomorrow for ALL of us.
Using R.B.G.'s initials, I highlighted some action works that will be helpful in this mending process for our country.
Reflect: Where have we come from? Where do we want to go? What is good/bad about our nation right now? What have my personal actions or inactions done to better/worsen the situation?
Bridge: The past year has highlighted what seems to be a growing divide among citizens in our country. The best way forward is together. We need to find ways to bridge the divide, to find a common purpose, and to work towards consensus. Polarization is not the answer.
Grow: Know better. Do better. We cannot undo the past, but we can grow as individuals, communities, and a nation towards a more equal and just society.
May we all work together to pave the way towards equality and justice for all Americans.
Materials: Mend panel, quilting cotton, metallic thread & accent fabric, digitally printed novelty fabric, machine quilted.
Vicky Herring - Madison, WI


My plan was to design something with a message that people need to come together, but I struggled coming up with the exact words. So I designed the blocks and hoped for a sign. My "aha" moment came as I watched Tyler Perry at the Academy Awards win the 2021 Humanitarian Award. In his acceptance speech he talked of people and their struggles and differences. He finished his speech with a call to come together and "Meet in the Middle."
I enjoyed working on this project and it made me think more carefully about how I react to others who may have ideas that are different than my own.
The stars were paper pieced and the other blocks were fussy cut to line up the stripes properly. The message was written with fabric paint.
Tina Abert - Madison, WI
We can't begin to mend until we acknowledge our past. The quilt acknowledges the 11 federally recognized Tribes of Wisconsin and is inspired by the 2008 Apology to Australia's Indigenous Peoples.
Machine stitched with lettering in acrylic paint and fusible applique.
Kristine Moser - Janesville, WI
It's Complicated
It's Complicated was designed to reflect the complicated times we are living in. The world is not flat, it is dimensional. The world is not black & white it is filled with every hue of every color. The people we meet are not "this or that", we are all multiple layers of growth and immaturity.
We are given numerous opportunities every day to be better versions of ourselves. Everyday throughout COVID-19, I have asked myself "If this were my last day, am I happy with what I am doing?"
For the past year I have put art tapestries on hold and made thousands of masks. Each mask was a prayer in my heart for health, protection and grace. I found special fabric to reflect teachers, holidays, health, super-heroes, communication, food, music, & color. All masks were donated to help others and stores raised money for causes dear to their hearts.
The base of this tapestry is made up of 2" squares from the cotton masks I made. In the middle, a large growing heart hopefully protecting all the people we realized were important to us as a civilization. Stand to the left of the tapestry and you will see the beautiful Mend panel that speaks volumes about the events of 2020 & 2021. We did not know how innocent we were before and can't un-see or un-hear what we have witnessed now. Currently for me, the American flag connotes unintended warped expressions of loyalty. No worries, we can still try to honor and respect others, now matter their perspective. We, the living, are all works in progress. God would have called a person home, if they were not meant to be here on earth.
Stand to the right of the tapestry and you will see my new focus, the Statue of Liberty, an amazing symbol of hope! Millions have gazed upon this monument with wonder, hope and a prayer for a better future.
The border is made up of tiny stars to represent all the souls that have traveled on. The inner red border is for all the heartaches and blood. The black border has glow-in-the dark stars for the spirits we have lost that live on in our hearts and the universe.
The back of the tapestry is made up of fabric printed with hundreds of hearts for all the hearts that have opened up to others. All the volunteers! All the regular people who have realized it is the healthcare workers, teachers, mailmen, transit store stockers, delivery are folks who really matter.
The state appliques on the back are separated. Divided in views, thoughts, deeds, and needs. There is not one healing solution to anything. It is a complicated wounded nation. It will be a complicated dimensional long healing process.
Let's begin, get up each day and stand as tall as you can to reach the light within you and share it with at least one other each day.
Karen Dilley - Madison, WI


My inspiration was how angry and divided we are as a country. It makes me so sad to see people give up friendships due to political differences rather than find common ground or to strike out at people they don't know due to race or religion, thus the tears for the eagle.
Techniques used were: paper piecing, crazy quilting, trapunto and hand embroidery.
Sources for fabric were: Blue Bar Quilts, Hobby Lobby, Electric Needle , Spoonflower Fabric and Kohatu Patterns (the paper pieced Eagle)