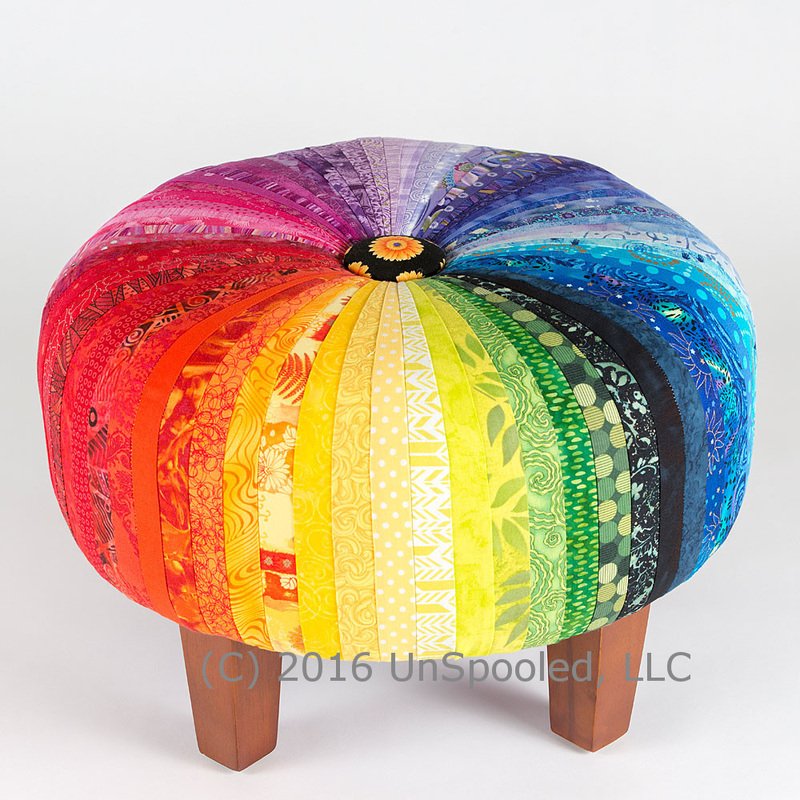 Supply List
Pattern "Pieced 18-inch Tuffet" from TuffetSource
Fabric for tuffet top:
64 strips cut 2" by 21" OR
One jelly roll/strip roll of at least 32 strips cut in half (to yield 64 strips at 2 ½ x 21") OR
8 fat quarters cut into 2" x 21" strips
No need to trim strips; one or two extra in case of mistakes is a good idea
1 ¼ yards muslin
6" square fabric (to cover button)
1 fat quarter (for bottom of tuffet) (second class)
1 piece of 18" x 18" fusible fleece or batting for bottom of tuffet (second class)
Straight pins
Rotary cutter with a sharp blade
Rotary cutting mat
12" Add a Quarter ruler
Fons & Porter's glue basting pen OR Mary Ellen's Best Press
Piecing thread
Quilting needles size 90/14 (best) or 75/11
Sewing machine in good working order
Zigzag or open toe presser foot
Zipper foot (will need for homework)
Typical sewing supplies: Seam ripper, scissors, etc.
Pre-class work: Please fuse the printed interfacing to the muslin as described in the pattern, and roughly cut the fused panels out.
Kit (provided by instructor) includes:
Cut, drilled, and sanded plywood base
Furniture grade upholstery foam, beveled
Tee nuts
Upholstery batting
Button form
Cording
Four solid wood tuffet feet with hanger bolts
The kit fee is $100 plus tax, payable to the instructor at the first class (some feet choices may be discounted).
Instructor will also provide:
Upholstery grade staple gun and staples
Safety equipment
Adhesives
12" upholstery needles
Various other tools as needed
Upholstery thread and needles
| | |
| --- | --- |
| Requirements: | Tuffet Kit costs $100, pattern cost $28 |
| Instructor: | Cheryl Schenck |
| Instructor Bio: | Cheryl Schenck |